I survived my first week back at work!!!!!!!!! I had to work 4 days in a row (Tuesday, Wednesday, Thursday, and half day Friday), which is the most days in a row I'll ever work; going forward, I'll have every Wednesday off and half days every Friday, so I really only have to get through 2 days of work to get a day home with Carter :)
1. Brach's Candy Corn
I love October and the return of candy corn to stores everywhere! Actually, it's probably there year round and I just glance right over it, but they start putting it on endcaps in October for impulse buyers like me, so in my mind it comes out in October. Brach's is the only brand of candy corn worth eating...the fake brands are no comparison. I may have eaten a whole bag by myself over the past 2 weeks...oops. I tend to go through a major candy corn phase in October every year, then get totally sick of it and not want to eat, think about, or see it again until the next October. Ha!
2. Florist Deliveries at Work
I LOVE getting that phone call from the receptionist letting me know that I have a delivery to pick up in the lobby at work. Even though florist arrangements are stupidly expensive and I cringe when I find out how much they cost, I love getting flowers delivered at work! Blair normally reserves this for once or twice a year, like our anniversary (he knows I hate rose arrangements so doesn't send them on Valentine's Day, when they are overpriced anyway). This week he/Carter sent me flowers on my first day back at work after maternity leave, which was a total surprise! I think they were really "please don't quit your job today" flowers, but I'll take them anyway!
3. Wearing Real Clothes Again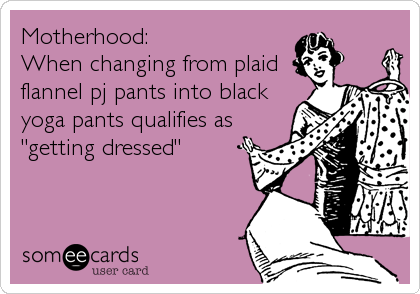 Now that I'm back at work, I'm wearing real clothes again. During my 12-week maternity leave, which was July-October, I wore shorts and either an Old Navy vintage v-neck tee or a cotton tank top every. single. day. because it was comfortable, easy, and I could throw it on in 2 minutes without having to think. I can totally see how stay-at-home-moms fall into the yoga pant wardrobe - there is no time (or reason, really) to dress up cute everyday, especially if your baby is a spit-uppy as mine and you know you'll be doing a complete outfit change at least once on any given day. Now I'm getting to wear clothes that haven't seen the light of day in 9 months, since I haven't worn them since I was about 18 weeks pregnant and my baby bump got too big for them to fit. It's like having a whole new wardrobe! I haven't ventured back into wearing heels on a regular basis yet (I stopped wearing those around 18 weeks as well, based on my OB's advice about my changing center of gravity) - I'm still working on repairing my core muscles, and I've read that heels can throw your core out of alignment.
4. Friday Maroon
Last year I implemented a new tradition of wearing maroon to work every Friday during the fall to support my Aggies. My office is casual all of the time and even more so on Fridays, so during football season everyone tends to wear their college team colors on Fridays so we can talk smack. This is obviously more satisfying in years when A&M actually has a decent team! It used to be so hard to find the right color of Aggie maroon in anything except university-licensed t-shirts, but maroon seems to have been an "in" color for the last 2 fall seasons, so I've been able to add some non-branded maroon to my wardrobe! I ordered this shirt from Old Navy for this very purpose and can't wait to wear it with skinny jeans and leggings this football season. Whoop!