Today I'm linking up with Momfessionals and A Little Bit of Everything to share my favorite things under $10!


No matter the season, I love a scarf! I used to keep my scarves in bins on a shelf in my closet, but I ended up never wearing the scarves at the bottom because they weren't visible (out of sight, out of mind). I love this scarf hanger from Ikea because it allows me to hang up my scarves and see them all at once! It's only $7.99 and can hold 28 scarves.
2. Microplane Pedicure Foot Rasp
So, this isn't the most glamorous product in the world...but it is amazing. You know how the foot files you buy at Target to do an at-home pedicure never seem to get the bottom of your feet as smooth as they are after a nail salon pedicure? You need this microplane foot rasp! It's the same one they use at the nail salon, and it works SO much better than the flimsy Sally Hansen version - it's made by Microplane, so it's essentially a cheese grater for your feet (gross, but effective). It has over 1,500 5-star reviews on Amazon...I love it!
3. Old Navy Vintage V-neck Tees
I love Old Navy's vintage v-neck short-sleeve tees - I own at least 6-8 in both solid colors and stripes. They're super inexpensive (they go on sale for about $6 all the time), soft, comfortable, and the perfect long length (key for tall girls like me). These have become part of my mom uniform - they are casual and comfy enough to wear around the house, but when I leave the house, I can throw on some fun earrings, a statement necklace, or a scarf to turn it into an "outfit". Although they're super casual, sometimes I'll wear one under a blazer to dress it up for work.
4. Essie Chinchilly Nail Polish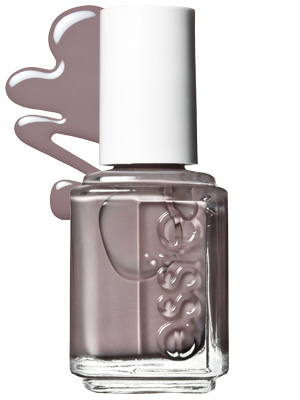 Now that it's fall, I've switched over to what I consider "cold weather" nail polish colors. Essie's Chinchilly is one of my favorites - it's a gray that has undertones of purple and taupe, depending on the light. It's one of those nail polishes that people will always ask you what color you're wearing, but at the same time is tame enough to wear on an everyday basis to work. Love!